Even the location of the 2023 Open Government Partnership Global Summit embodied the themes of occupation, resistance, resilience, freedom, democracy and democratic renewal. Hanging over the Summit was the war in Ukraine: Tallinn is 120 kilometres from Russia and 1,400 kilometres from Kyiv. 
Connecting reformers
The venue was not a glitzy convention centre but a converted 1860s railways factory complex located just outside the walls and fairytale turrets of Tallinn's medieval centre. The Telliskivi Creative City was created as a space for businesses and creatives by redeveloping the factory complex in the late 2000s. Its maze of auditoriums, meeting rooms, bars and restaurants, narrow staircases, businesses and outdoor spaces made it easy to get lost but also made it easy to bump into 'random' people. In other words, the venue was made for networking and this, I realised, is both a major part of what OGP does and of how it works to bolster democracy. I wish other New Zealanders, including politicians and officials, had been there too.

From occupation to independence
The Summit was held a short distance from Freedom Square, the Vabamu Museum of Occupations and Freedom, the chilling KGB prison cells and the Pikk Herman tower, where the Estonia flag flies everyday as a symbol of independence and freedom. Estonia gained independence first through the post World War I settlement but was occupied by the Nazis in 1941 and then the Soviets until independence was achieved again in 1991 following the 'The Singing Revolution'.
I'd heard of Estonia's incredible group-singing tradition and how it had been used to orchestrate mass, peaceful protests. However, as a show of solidarity, the event that stood out for me was the human chain: 2 million people standing together, arms linked, to form a 690-kilometre chain through Estonia, Latvia and Lithuania. This happened on 23 August 1989. Some of the history and motivation behind such resistance to the Soviet occupation was made clear at the Vabamu Museum through the stories of affected people, including from some of the 20,000+ Estonians who were deported to Siberian gulags.
Political leadership at the Summit
Given this history, it's no wonder Kaja Kallas, Estonia's Prime Minister, insisted that democracy is worth fighting for and needs constant care. She sees the OGP as an international platform for working together, for reflecting on what is working and supporting what must be done next for freedom, security and prosperity. She noted that we shouldn't be "afraid of new beginnings when customary solutions no longer work" – ongoing innovation is necessary for healthy, strong democracies.
The address by the Ukrainian Prime Minister, Denys Shmyhal, almost had me in tears as he talked about his people simultaneously fighting a total war while reforming Ukrainian governance institutions so that it can join NATO and the European Union by the end of 2023. He made clear that this is not only about security, it will also enable reconstruction. Shmyhal said that out of the rubble, Ukraine will build an advanced 21st century economy and democratic society, and he invited OGP members to help. I hope New Zealand responds positively to this call.
The position of these prime ministers was backed up by Secretary of State Blinken and USAID Administrator Power giving speeches, a US$3 million pledge to support the OGP's work, and the United States taking a position on the OGP Steering Committee. The European Union also affirmed its commitment via an address by its Commissioner for International Partnerships, Jutta Urpilainen, who pledged €3 million.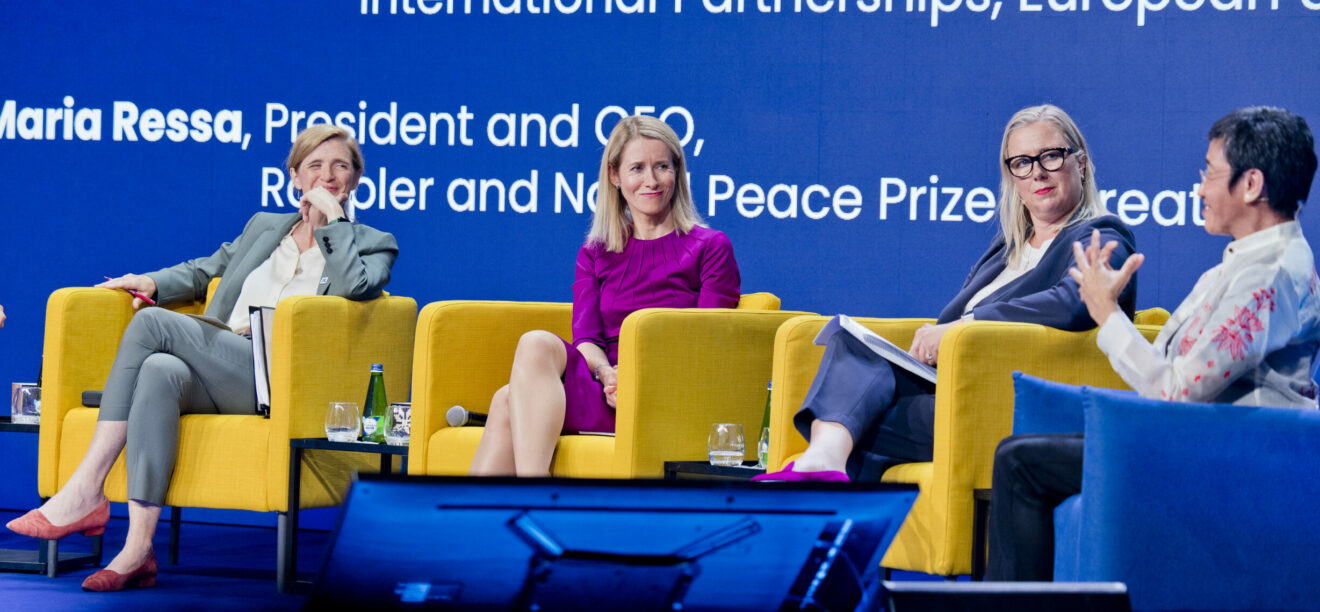 I'd like to see New Zealand's politicians lead some serious work on improving our democracy at home. Since returning, I've noticed a palpable disillusionment with politics from many people. The New Zealand government should use its OGP membership to help reboot democracy here. New Zealand politicians and officials would find inspiration and support for this by participating in OGP summits and regional events themselves.
Embodying the Open Government Vision
The Summit opening included a presentation about the OGP's new 2023-28 Strategy. I felt the Summit really embodied its Vision:
Our vision is of open governments working in partnership with civil society and people to strengthen democracy and deliver better societal outcomes.
It was noticeable that for every politician on the main auditorium stage, there was also a person from civil society who seemed quite comfortable challenging claims and putting forward alternative views.
And even a cursory reading of the Summit programme reveals not only the diversity of topics but the huge variety of government and civil society people involved in planning and running sessions.
I helped facilitate the session called 'Overcoming Polarization: Creating Space for Constructive Dialogue' and will post a link to a summary of it soon.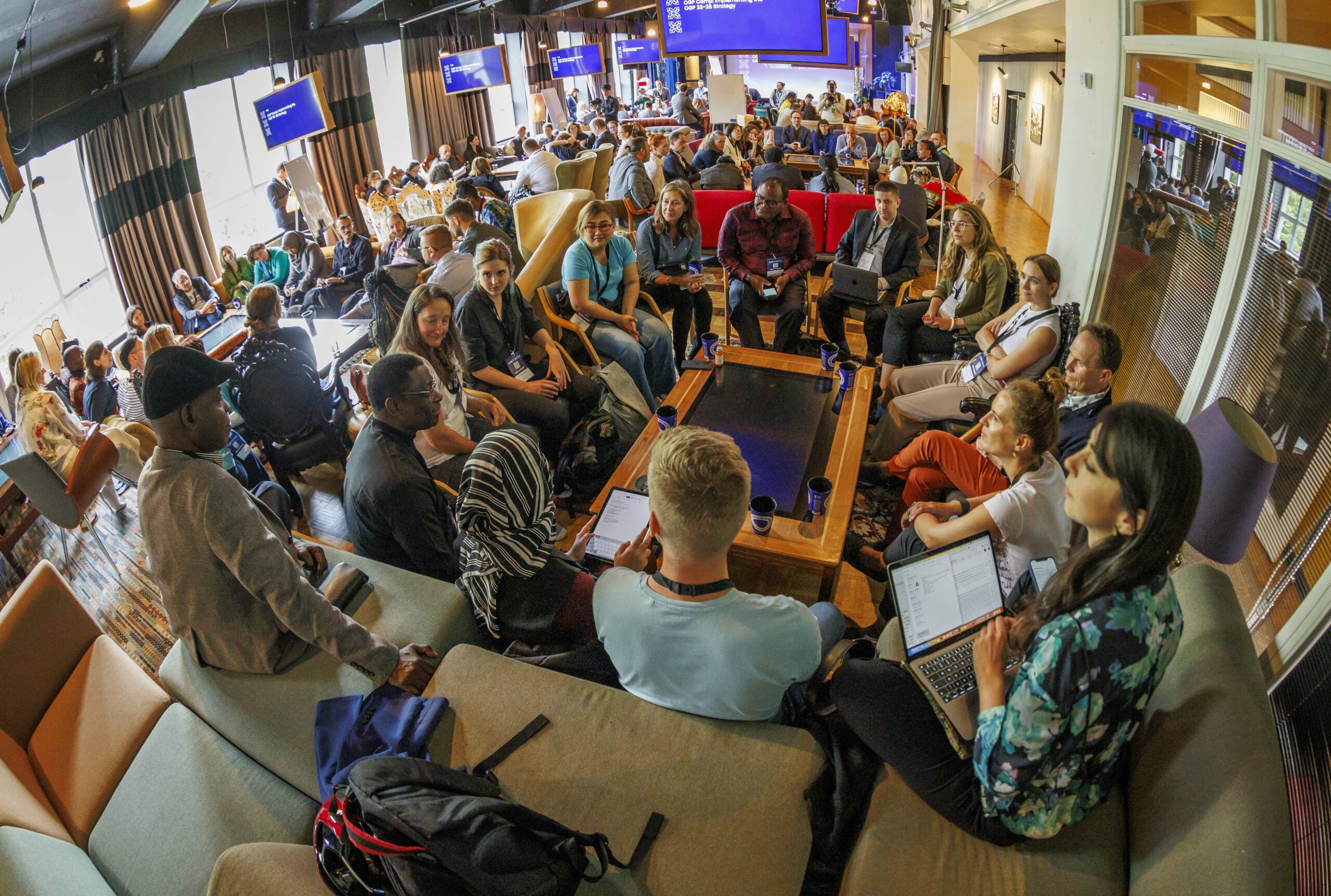 Open Gov Challenge
An innovation announced at the Summit was the OGP's Open Gov Challenge. This sits alongside National Action Plans as another way for governments and civil society to do more to address the big issues facing democracies today. Trust Democracy is open to discussing ideas for New Zealand-based Open Gov Challenge initiatives.
OGP Local
I also noticed a significant contingent of local government people at the Summit. OGP is expanding its OGP Local programme. This seems a smart move to me as local government is generally much closer to, and more open with, its people than national administrations.
I'm sure New Zealand councils would benefit from joining OGP Local. For example, they could talk with officials from, say, the City of Paris about their experience with deliberative democracy. By being there, I was fortunate to be able to do exactly this. Paris was the first city to establish a permanent citizens assembly and also runs an impressive participatory budgeting programme that enables citizens to allocate 25% of the city's budget.
For more information about OGP Local, see a set of takeaways from the OGP Local Assembly held at the Summit. Applications to join OGP Local in 2024 close on 12 January 2024.
Not-so-official perspectives and pickled cucumbers
I was impressed by the way the Summit organisers made the most of 'difficulties' to enhance delegate experience.
For example, the response to the hotels being distant from the venue included a side event called 'Not-So-Official Perspectives'. This was organised by 2 artists interested in exploring the (in)ability of art to help society function and offered delegates a chance to be guided through the old town to the summit venue by a Tallinner. I really enjoyed my early-morning walk with a Kenyan delegate and our charming, final-year, secondary-student guide.
Other fun examples were the participatory demonstrations of Estonian traditions such as cucumber pickling and firewood stacking. These provided opportunities to talk with locals and provided a welcome relief from presentation overload.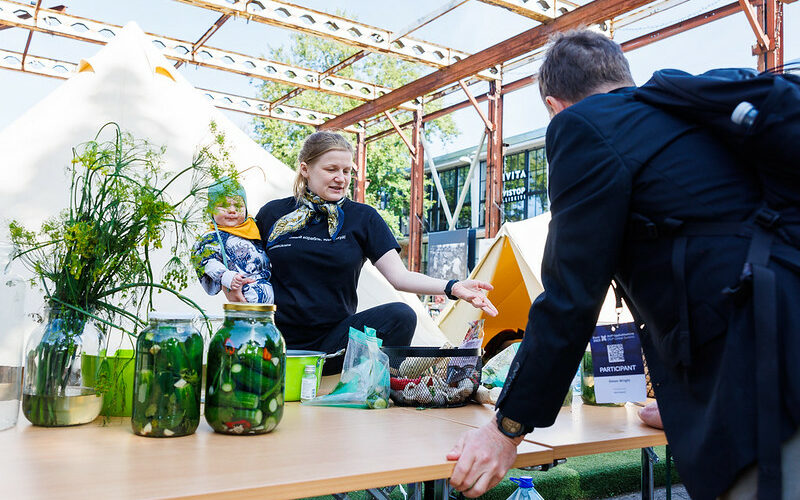 Estonian civil society
On the day after the Summit, delegates were invited to a side event called the Democratic Sauna 2023. The invitation began:
Bringing together democracy researchers and developers of the Baltic Sea region who share a passion for understanding and enhancing democracy. We invite you to get out your towels and whisks because this year we're getting hot and steamy on a sauna-inspired day filled with meaningful discussions on the future of democracy development in the region.
Who could turn down an invitation like this? I really liked the creative way Estonian civil society organisations put together other Summit events too.
I'm not sure what's behind this but perhaps a person's job titles make a difference. Would my events be more creative and 'out there' if I was a 'deliberative democracy artist' like one of the Estonian civil society people?
Or is it more about resourcing? The Center for Democracy appears to have 12 staff and funding from at least 10 organisations. The Cooperation Assembly has 8 staff. This indicates Estonia, a country of only 1.3 million, has a broader base of support for protecting and enhancing democracy than New Zealand and its 5 million inhabitants. There are few civil society organisations in New Zealand with a democracy focus and, across the ones we have, very few paid staff.
My democratic sauna
In Estonia, 'sauna' has at least two meanings: it's a steam bath and a meeting/conference. Reflecting on my OGP democratic sauna, was it hot, steamy and meaningful?
The answer is a resounding: yes!
It's not often that my advocacy for more inclusive and deliberative democracy has been so positively affirmed by political and civil society leaders. Where else could I have met people from world-leading exponents of public, deliberative processes such as Involve, the Danish Board of Technology, People Powered and Make.org? While I've been following the mainstreaming of democratic innovations such as participatory budgeting from New Zealand, it's something else to see and hear people talking about these things as a normal part of 21st century democracy.
It's important for reformers to feel validated and to have connections with other reformers. OGP does this on steroids and I would like to sincerely thank the OGP for the travel support I received that made my attendance possible.
For more information about what 'open government' is, and its history and current state in New Zealand, see 'Open government: A 40-year gestation and still in labour' by Trust Democracy members Andrew Ecclestone, Keitha Booth and Simon Wright in Public Sector, Vol. 46, No. 3, Spring 2023, 10-13